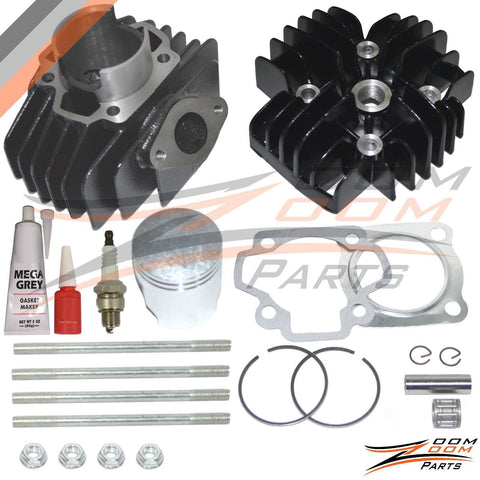 YAMAHA QT50 60CC BIG BORE KIT SET CYLINDER PISTON GASKET HEAD TOP END 1979-1987
$ 74.95
Brand none
BRAND NEW - NOT REBORED.
YAMAHA QT 50 BIG BORE KIT to 60cc.
POLISHED 60cc CYLINDER HEAD INCLUDED.
Change the size of your engine, and feel the POWER.
Give your machine the new power and torque it really deserves, and have more fun with the power at your finger tips.
BRAND NEW.
1x Cylinder Block.
1x Polished Head.
1x Piston.
2x Piston Rings.
2x Circlips.
1x Piston Pin.
1x Head Gasket.
1x Base Gasket.
1x Pin Bearing.
4x Cylinder Studs.
4x Stud Nuts.
1x FREE SPARK PLUG.
1x Gasket Maker.
1x Thread Lock.
PLEASE NOTE:
** OUR KIT INCLUDES A POLISHED 60cc CYLINDER HEAD, DESIGNED TO WORK ON OUR KIT.  **
OTHER SELLERS KITS WILL NEED TO BE MODIFIED.
Big Bore fits:
YAMAHA MODELS.
1979 - 1987    QT 50.
You may also like