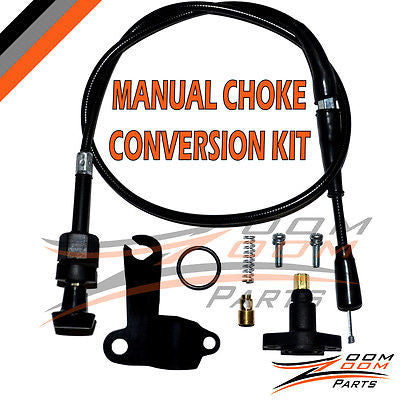 POLARIS SCRAMBLER 90 MANUAL CHOKE CABLE CONVERSION KIT SET 2001-2003
$ 24.95
Brand none
                         

 

NEW Manual Choke Cable / Conversion Kit.
POLARIS SCRAMBLER 90.
 
TOP QUALITY REPLACEMENT.
Replace your exsisting manual choke cable or convert your electronic choke to a manual choke system by simply using our cable kit.

 

BRAND NEW.

1x Choke Cable.

1x Mounting Bracket.

1x Choke Plunger.

1x Choke Spring.

1x Choke Cap.

1x O-Ring.

2x Cap Screws.

 

PLEASE NOTE:

THIS MANUAL CHOKE / CONVERSION KIT WILL NOT FIT CARBURETORS THAT HAVE A ROUND STYLE ELECTRONIC CHOKE.

THIS WILL ONLY FIT CARBURETORS THAT HAVE AN EXSISTING MANUAL CHOKE OR A ELECTRONIC CHOKE WITH WIRE COMING OUT THE TOP SIDE OF THE CHOKE.

PLEASE SEE THE PICTURES FOR DIFFERENCES. 

 

ELECTRONIC CHOKES ARE NOT INCLUDED.

 

 

Kit mostly fits:

Polaris Models.

2001 - 2003   SCRAMBLER 90.

 

 

 

Always remember.

When you want to play, ZOOM ZOOMS the way !!!!