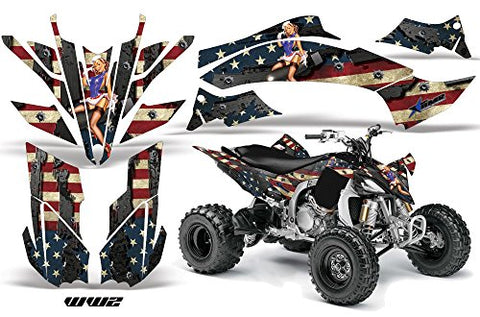 Only 3 left!
AMR Racing ATV Graphics kit Sticker Decal Compatible with Yamaha YFZ 450 R/SE 2009-2013 - WW2
$ 169.95
Brand AMR Racing
Brand: AMR Racing
Features:
Precision cut for a professional finish. Easy, do-it-yourself installation! Guide included
Triple Layered Vinyl with a Clear Protective Layer, a Vividly Printed Design, and a Strong Adhesive Backing
Clear Overlaminate for Polished Armor like Layer of Protection
Graphic kit Vinyl Decals - Not Replacement Plastics
Made in the USA
Part Number: YAM-YFZ450R-09-WW2
Details: Why choose AMR Racing Graphics? We have seen just about every type of graphic available. So when AMR Racing told us about their new line of graphics for Rhinos, Quads and MX Bikes we were more than excited. When they sent us our first set, we were absolutely blown away. These graphics are UNREAL. AMR uses a patent pending digital process that produces up to 16.5 million colors. The quality and detail is nothing like we have ever seen before. In addition to the amazing appearance of the graphics, they are super thick, 22mil! They are by far the thickest graphics we have seen. The last piece of the puzzle, and the one thing we were most skeptical about was the adhesive, how well are these things going to stick? Well, AMR did not disappoint us here either. They use a super strong 3M brand adhesive that is guaranteed to stay put through all of your off-roading adventures.
EAN: 0646847746512
Package Dimensions: 15.9 x 11.5 x 2.3 inches