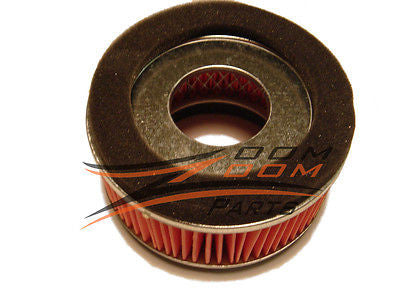 Air Filter GY6 Scooter Go Kart 150cc Round Style
$ 11.95
Brand none
                         

Air Filter GY6 Scooter Go Kart 150cc Round Style.
4 Stroke.
Replaces existing stock Air Filter, Just replace and ride again.

Give your machine the new power and torque it really deserves, and have more fun with the power at your finger tips.

BRAND NEW.

1x GY6 Air Filter Round Style.

1x FREE Inline Fuel Filter.

 

Air Filter will fit:

GY6 or GY6 Clone engine 150cc.

150cc Go Kart engine.

150cc Dune Buggie engine.

150cc Buggie engine.

ROKETA.

SUNL.

BAJA.

KAZUMA.

CARROLL STREAM.

EAGLE.

TAOTAO.

REDCAT.

TANK.

GIOVANNI.

AIMEX.

JACKEL.

WILDFIRE.

XTREME.

SEASENG.

QLINK.

 

 

Always remember.

When you want to play, ZOOM ZOOMS the way !!!!