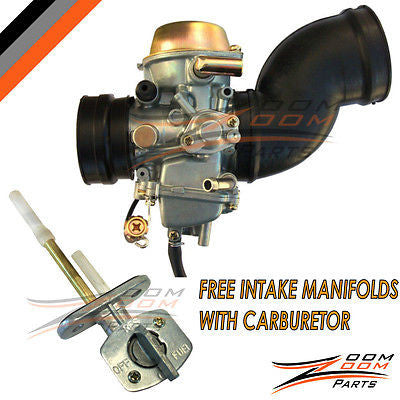 1998-2001 Yamaha Grizzly 600 YFM600 Carburetor Intake Manifolds Fuel Petcock NEW
$ 69.95
Brand none


 

NEW Carburetor, Fuel Petcock and Intake Manifolds

Yamaha Grizzly 600.

 
Replaces existing Fuel Petcock, Just replace and ride again.

Give your machine the new power and torque it really deserves, and have more fun with the power at your finger tips.

Petcock Replaces OEM Number: 2GU-24500-02-00

 

BRAND NEW.

1x Carburetor.
1x Fuel Petcock.
1x Throttle Base Cover.
1x Throttle Base Rubber Gasket.
1x Throttle Cable Clip.
3x Base Cover Screw.
1x FREE Intake Manifold Boot. ( MSRP $58 )
1x FREE Air Intake Tube. ( MSRP $33 )
1x FREE FUEL FILTER.

 

Parts mostly fit:

YAMAHA MODELS

1998 - 2001    GRIZZLY 600

 

** PLEASE VISIT OUR STORE FOR MORE GRIZZLY PARTS **

                                                                                                                           Always remember.

When you want to play, ZOOM ZOOMS the way !!!!


You may also like