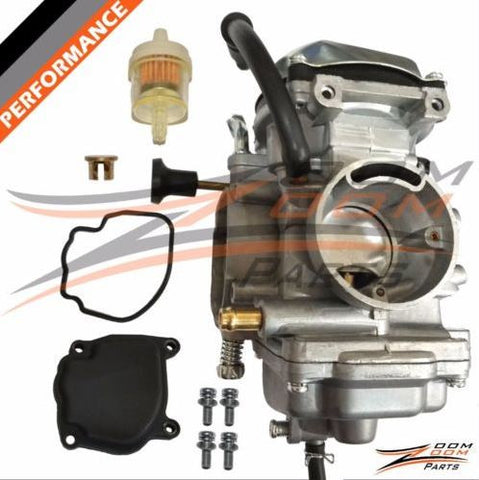 PERFORMANCE CARBURETOR YAMAHA KODIAK 400 YFM 400 YFM400 ATV 1999 4x4 FWBL CARB
$ 42.95
Brand Zoom Zoom Parts
YAMAHA KODIAK 400 4x4 ( FWBL MODEL ONLY ).
WHILE STOCKS LAST !!
A TOP QUALITY COMPLETE REPLACEMENT CARBURETOR.
Give your machine the new power and torque it really deserves, and have more fun with the power at your finger tips.
**Performance carburetor made to work with upgraded machines, complete stock machines will need modifications for the performance carburetor to work correctly. **
BRAND NEW.
1x Carburetor.
1x Throttle Base Cover.
1x Throttle Cable Clip.
4x Base Cover Screw.
1x FREE Inline Fuel Filter.
Carburetor fits:
Yamaha Models.
1999   KODIAK YFM 400 4x4 ( FWBL MODEL ONLY ).
THIS WILL NOT FIT OR WORK FOR ANY OTHER MACHINE BESIDES 1999 BIG BEAR 350 FWXL MODEL.
** PLEASE CHECK OUR STORES FOR OTHER BIG BEAR 350 PARTS **
You may also like