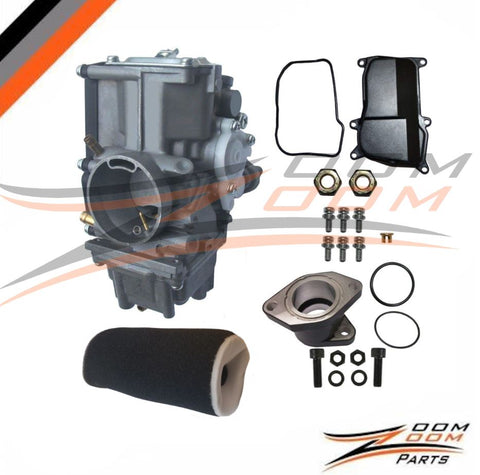 YAMAHA WARRIOR 350 CARBURETOR INTAKE BOOT AIR FILTER YFM 350 YFM350 1987-2004 ATV QUAD BRAND NEW CARB FREE FEDEX 2 DAY SHIPPING
$ 58.95
Brand none
BRAND NEW CARBURETOR, INTAKE BOOT AND AIR FILTER
1987-2004 WARRIOR YFM 350.
 
  
** IMPORTANT FACT **

OUR NEW UPGRADE STYLE CARBURETOR IS DESIGNED EXACTLY TO OEM SPECS.
THIS IS NOT A ONE SIZE FITS ALL CARB, WITH INCORRECT JETTING THAT OTHER SELLERS ARE SELLING.
OUR CARBURETOR WITH THE CORRECT JETTING WILL GIVE YOUR MACHINE THE NEW POWER & PERFORMANCE THAT IT DESERVES.
 

A TOP QUALITY COMPLETE REPLACEMENT CARBURETOR, INTAKE AND AIR FILTER

Give your machine the new power and torque it really deserves, and have more fun with the power at your finger tips.

 
BRAND NEW.
1x Carburetor.
1x O-Ring.
1x Throttle Base Cover.
1x Throttle Cable Clip.
6x Base Cover Screw.
2x Mounting Nuts.
1x FREE Inline Fuel Filter.
1X Intake Manifold.
1x FREE O-Ring.
1x FREE Carburetor O-Ring.
2x FREE Bolts.
2x FREE Washers.
2x FREE Nuts.
1x air filter
 
Carburetor, Intake and Air filter mostly fits:
Yamaha Models.
1987 - 2004   WARRIOR YFM 350.
THIS WILL NOT FIT OR WORK FOR ANY OTHER MACHINE BESIDES WARRIOR 350.
 
** PLEASE CHECK OUR STORES FOR OTHER WARRIOR 350 PARTS **
 

 
Always remember.
When you want to play, ZOOM ZOOMS the way !!!!